Uma Musume is the last really big hit in Japan's mobile game industry, following the popular RPG Dragon Quest Walk from Colopl (3668) in 2019.
Released only domestically in February 2021, Uma Musume instantly climbed up not only the download but also up the grossing rankings – and more importantly, it still is up there today.
The game is actually the last entry in the Uma Musume-branded multi-media franchise that also includes other entertainment verticals such as music, merchandising, anime and manga.
The app's commercial success has waned by some extent, but Uma Musume is still making handsome amounts of money in Japan where it's constantly among the top 5 grossing titles on iOS and Google Play (it passed 11 million downloads in October 2021, there is also a PC version).
What Is Uma Musume?
At first, Uma Musume sounds like a rather obscure experience as it stars a cast of female characters or, to be more precise, anthropomorphic horse girls (the title can be translated into "Horse Daughters").
It's a wild mix between "star management", narrative RPG, music (successful players can watch "live performances" of their characters during which they sing on a stage), and of course horse racing.
At its core, players essentially collect female characters, train them to raise their stats, watch them go through a story and let them compete against each other in different kinds of races (including against horse girls trained by other players online) – which is again, the main gameplay mechanic.
I must say it's also a very, very well made game that shows it was in the oven for several years before it was released: graphics, design, presentation, polish, depth, or world-building are all top notch.
The main monetization technique is gacha: as can be expected, the most desirable characters are locked in loot boxes and require users to pay money to be able to open them.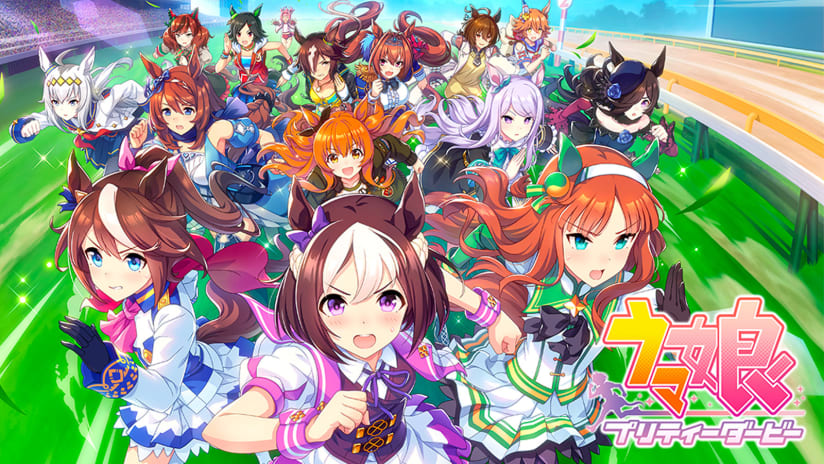 How Much Does Uma Musume Make?
Developer Cygames is in my opinion one of the best in the business, but even by their standards, Uma Musume is a real mega hit.
Cygames is majority-owned by CyberAgent (4751), with companies such as DeNA (2432) and Nintendo (7974) also owning stakes (see here for the 2012 DeNA deal).
Over time, the company has developed into an entertainment powerhouse that said in 2019 it employs around 2,500 people across the HQ in Tokyo and various subsidiaries.
The company does not break down sales numbers for Uma Musume and financials are generally subsumed under parent CyberAgent, but there is information available from the Japanese government's gazette and CyberAgent itself.
Cygames' financial year ends on September 30, and this chart shows sales over time (numbers for sales and income below rounded, 2021 data via Gamebiz):
Sales reached a whopping US$1.95 billion dollars for the financial year ending on September 20, 2021.
One year earlier, Cygames just generated US$970 million.
In other words, Uma Musume as the main driver made sales more than double, even though the game only started contributing five months into last fiscal and is still available in Japanese only.
Uma Musume's incredible performance is also reflected in the net income, as shown here: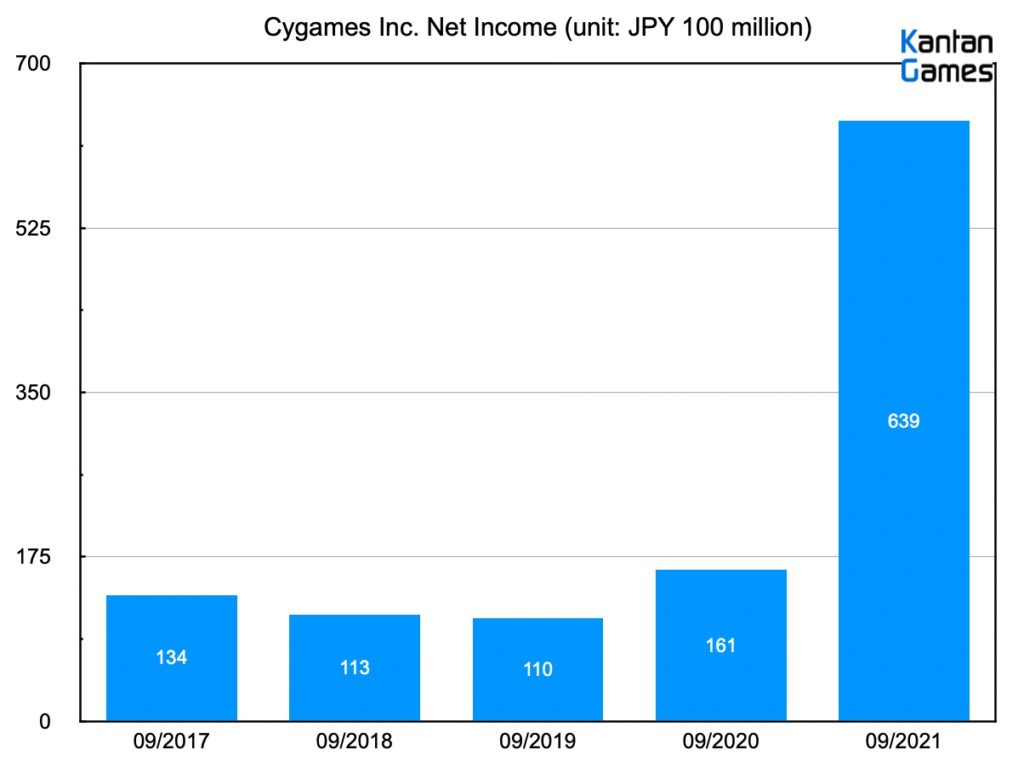 As it is often the case with mobile blockbusters, Uma Musume's net income effect was bigger than the sales effect: Cygames reported a whopping US$564 million in net income for the fiscal ending in September this year, around three times more than during the previous fiscal.
There is a US$422 million delta between these two fiscals, a lot of money for a game that stars female characters with tails and horse ears.
Uma Musume was not the only service launched by Cygames last fiscal, but in the absence of other hits and their legacy titles actually declining, it is safe to assume the title was responsible for most (more probably almost all) of the increase in sales and net income.
Notes: Due to Cygames being a private company and quirks stemming from Japan's gazette disclosure system, some data is incomplete or missing for some years – which is why I didn't include operating profit above. Currency conversion used: 100 yen = US$0.88.